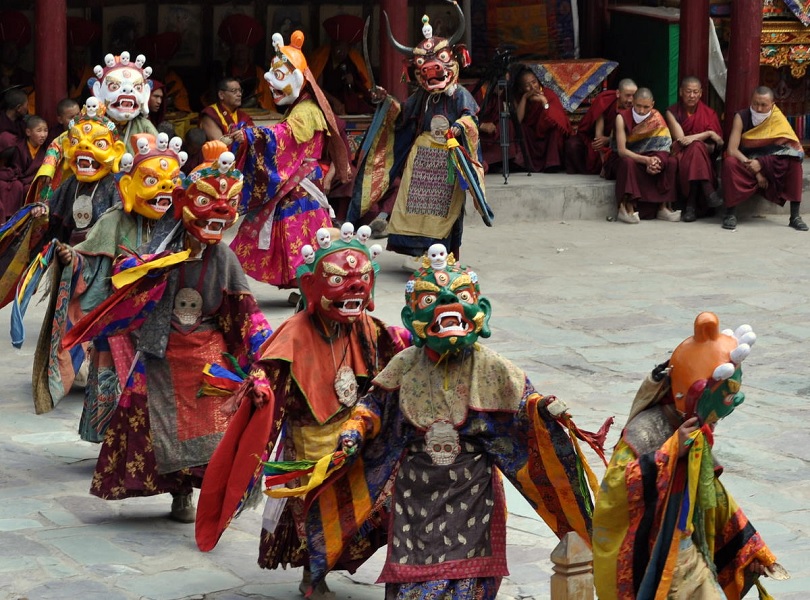 Huge and vibrant colour masks, absolutely traditional dresses, and men and women wearing gorgeous Ladakhi clothes, this is a common sight in many festivals of Ladakh. From the barren valleys of Leh to the serene mountains of Ladakh, locals celebrate many festivals that bring life to the valley even during gloomy winter.
Leh, which was the former capital of Ladakh, is now a district in the Indian state of Jammu and Kashmir. This beautiful place is the second largest district in India, after Kutch in Gujarat. There's ruined Leh Palace, which is the former mansion of Ladakh's royal familly. And Ladakh is a land which has become extremely popular among solo backpackers and bikers. It is enveloped by snow covered peaks, treacherous roads, and difficult passes.
Leh and Ladakh are highly influced by Buddhist and Tibetan culture, which means there are plenty of festivals in these regions that include monastery celebrations. Although many festivals of Ladakh feature almost same type of celebrations that revolve around celebrating the beauty of life and rituals to keep evil powers away and welcome peace. Here's a list of festivals that let the people of Ladakh celebrate life and love. check your calendar before you start searching for Ladakh tour packages for your upcoming trip.
1- Dosmochey Festival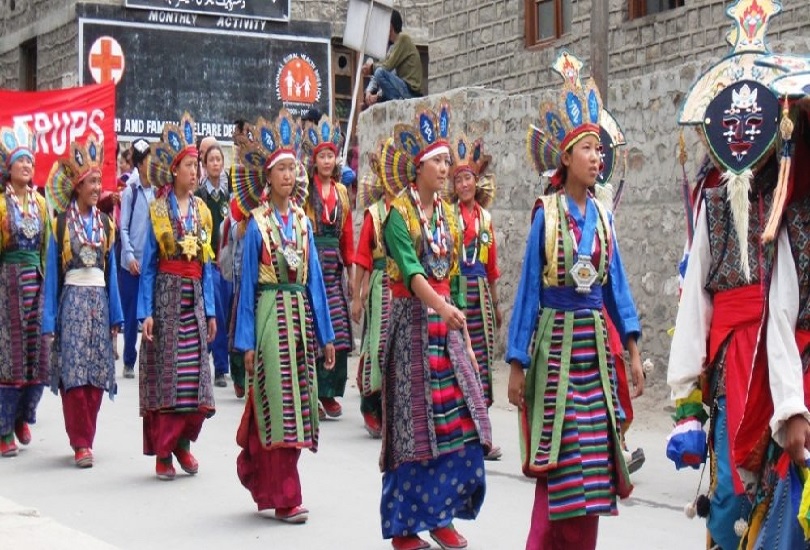 Celebrated with great enthusiasm and fun in Leh, Deskit, and Liker monasteries, Dosmochey is one of the most popular festivals across Leh & Ladakh. In the vast courtyard of Leh Palace, this two-day festival is celebrated in the presence of the many monks. Each year, monks from different monasteries in Ladakh, perform Chams. This festival is celebrated at the end as well as in the beginning of Tibetan New Year. Monks from Takthok monastery make holy and complicated thread crosses that are believed to catch evil spirits and protect the people of Ladakh from natural calamities. The next day, monks bring out the offerings and then a walk across the town while people whistle to ward off evils.
Read more about: 
2- Matho Nagrang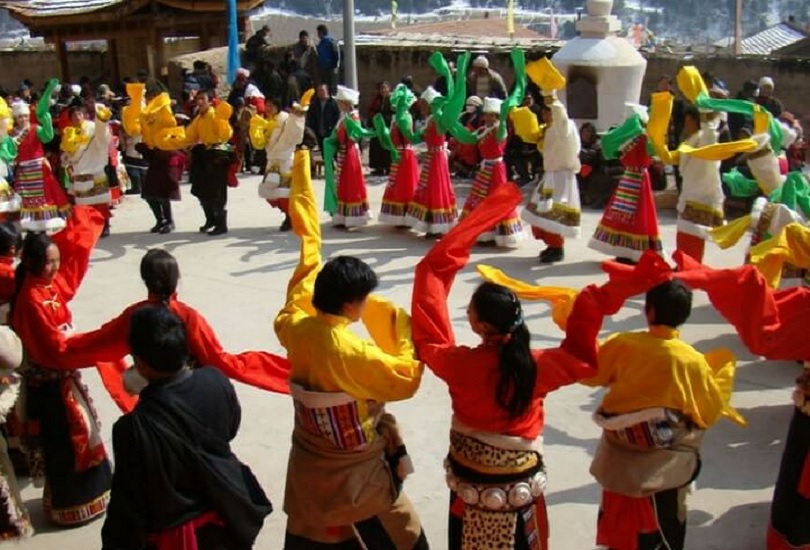 Among the most popular and colourful festivals in India is Matho Nagrang. The festivals is celebrated on the fifteenth day of the first month of Tibetan calendar. The Matho Nagrang festival is originally a festival of Matho monastery, which is the only monastery in the entire world of the Sakya School of Tibetan Buddhism. It is a two-day long festival. During the festival, monks wear colorful masks and perform a unique dance. They also wear beautifully stitched colorful silk robes that represent various forms of Gods and Goddesses.
Read more about: 
3- Stok Guru Tsechu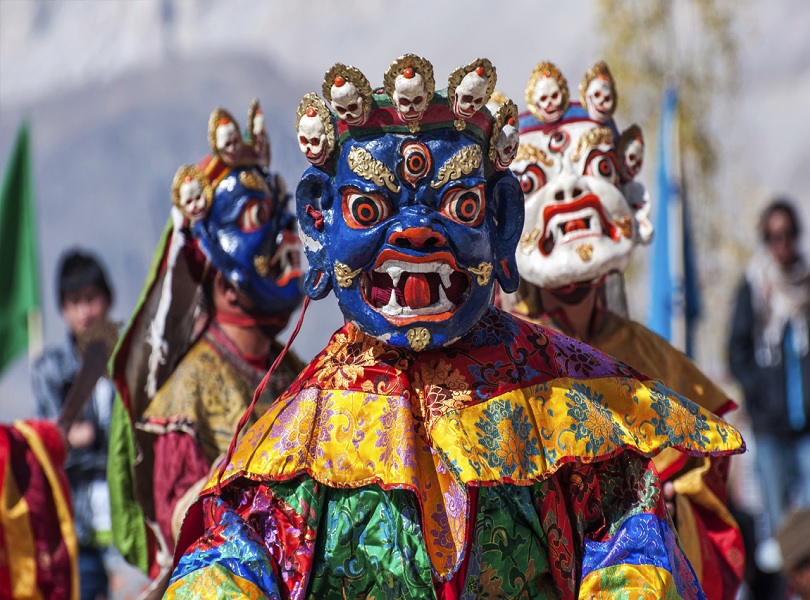 Stok village is located at a distance of about 20 km from south of Leh and is home to the royals of Ladakh. They tribute the oracles every year with a gala celebration. Stok Guru Tsechu is an annual festival, which is celebrated for two days on the 9th and 10th day of the first month of Tibetan Lunar calendar. During the festival, two men are dressed as oracles, who are prepared by monks to catch the spirits of god. This festival is celebrated in a tiny monastery, which is known as Gurphug. Stok Guru Tsechu is so important for the people of Ladakh that it is celebrated with great pomp, which involves the monks of Spituk monastery, who then perform sacred dances.
Read more about: 
4- Hemis Festival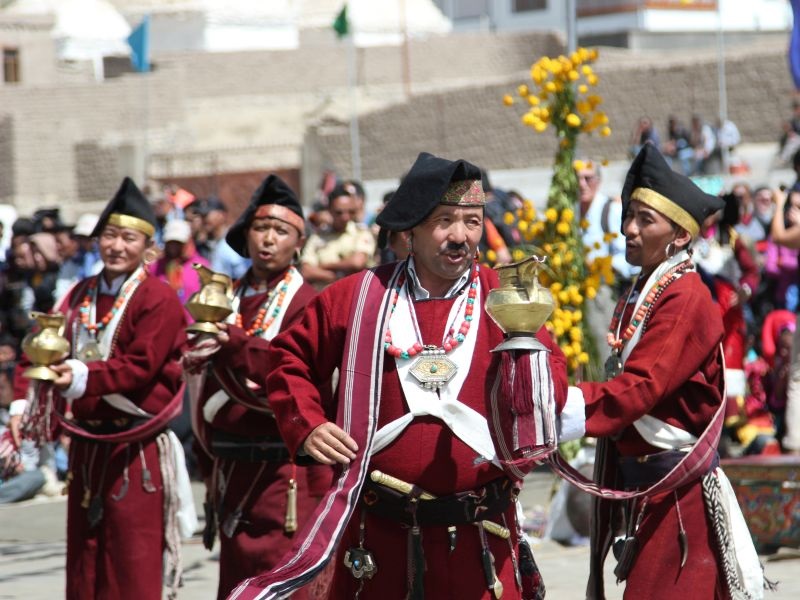 One of the most popular monastic festivals that is celebrated in Ladakh is Hemis festival.It brings back the colours in the other barren and deserted land. This festival, like any other festival is Ladakh marks the victory of good over evil. Right after the harsh and gloomy winter, this festival feels like a fresh and warm wave of air. It is celebrated with so much enthusiasm to celebrate the birth of Guru Padma Sambhava, who was the founder of Tantric Buddhism in the entire Tibet region. Monks perform a sacred and dramatic dance of life while wearing huge colourful masks and brocaded robes. An extremely huge painting of Guru Padma Sambhava is hung in the courtyard with other important and precious paintings of gurus. This amazing festival attracts thousands of tourists not only from India, but also from all over the world. It is the right time to visit Ladakh and learn about the culture and people of this happy land. If you are visiting Ladakh during this time, do not forget to add this festival to your travel package.
Read more about: 
5- Karsha Gustor festival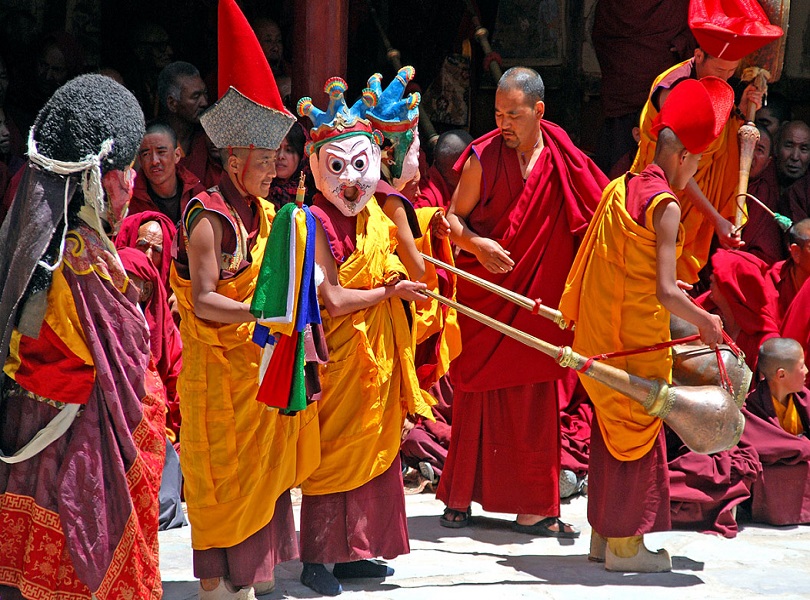 Karsha Gustor festival is a festival, which is mainly celebrated in Karsha monastery. This is the largest monastery in the entire Zanskar and is home to about 100 lamas. Other than the festival, this monastery and the views from there lure many tourists who want to enjoy incredible views of the snow-caped mountains. Karsha Gustor festival is celebrated to mark the victory of good over evil in other two monasteries including Thiksey and Spituk. The monks wear masks that represent the protectors, gods, goddesses, and guardians. On this day, people of Ladakh burn an effigy which represents evil. A unique and interesting black hat dance is also performed.
Read more about: 
  6- Ladakh Festival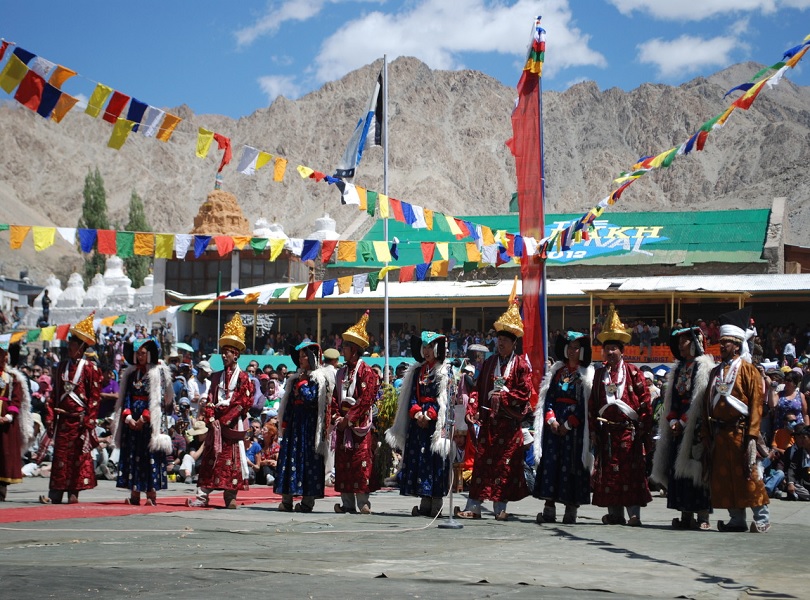 Among the most beautiful and grand festivals, Ladakh Festival takes place in the gorgeous land of Leh. It is celebrated on a large scale with a procession where different cultural troupes from various parts of Ladakh take part. The grand and colourful procession passes through Leh Market, which is accompanied by traditional music, merry dancing, while wearing traditional Ladakhi clothes. It is a 15-day long festival, which also include sports like Archery, different types of mask dances, and polo. Also, there's a series of musical concerts in the town. People from India and all over the world especially come for this festival. It has been attracting a large number of crowd and has also improved tourist in Ladakh.
Read more about: 

Leh – A Beautiful And Historic Hill Town In The Highlands Of Himalayas
7- Yuru Kabgyat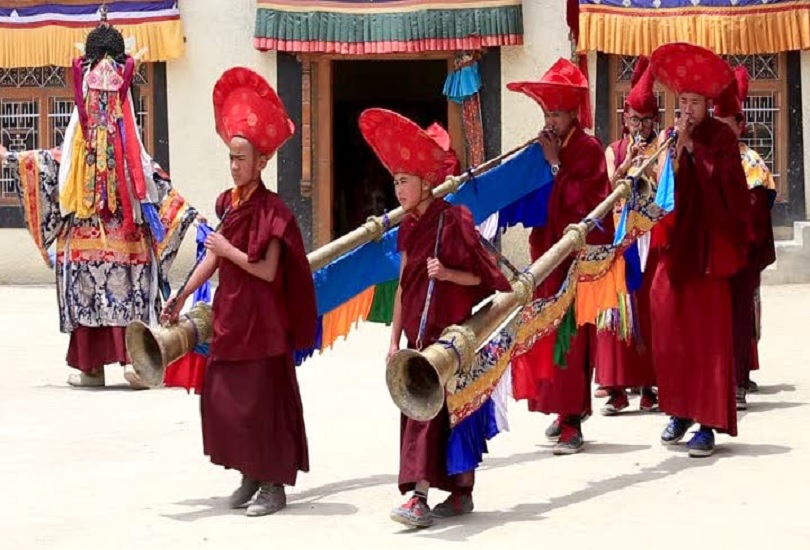 Yuru Kabgyat is a two-day long festival, which is held in Lamayuru monastery. Like any other festival in Ladakh, here too, monks perform mask dances, do prayers, and follow other rituals to bring peace and harmony into thhe world. If you find yourself in Ladakh during Yuru Kabgyat festival, you must visit Lamayuru monastery to experience a festival you've never seen before. Also, if you're someone who's interested in understanding different culture, then be around during this time of the year.
Read more about: 
8- Phyang Tsedup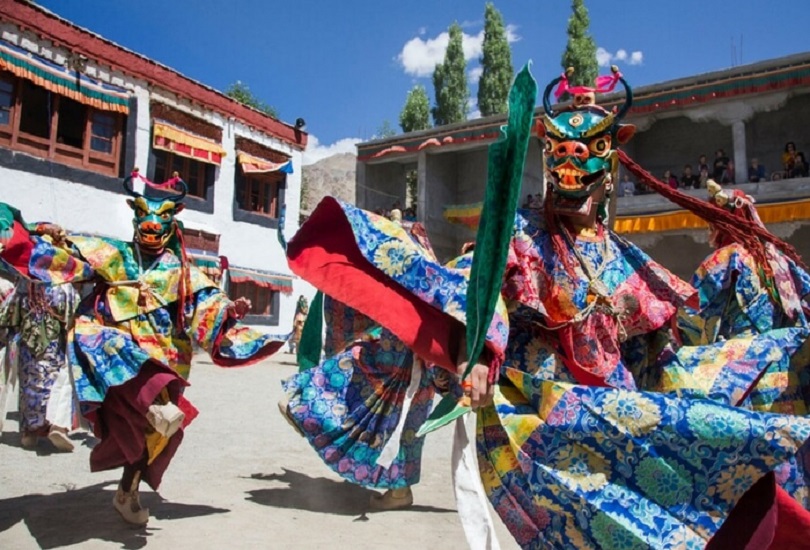 Phyang Tsedup is a festival that celebrates the teachings of Lord Buddha. Monks of Ladakh wear bright and beautiful robes and costumes and offer prayers. Drammas and Chammas are also performed during the festival.
Read more about: 
9- Thiksey Gustor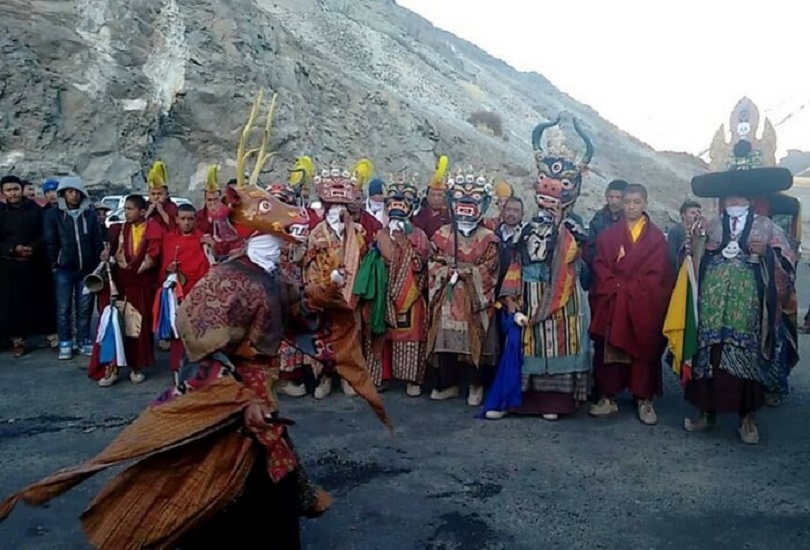 Gustor is a two-day long festival, which starts with chanting of mantra. Later, monks who live in the monastery offer prayers to god. It is also celebrated to protect the natives of Ladakh to protect from evil.
Read more about: 
10- Sindhu Darshan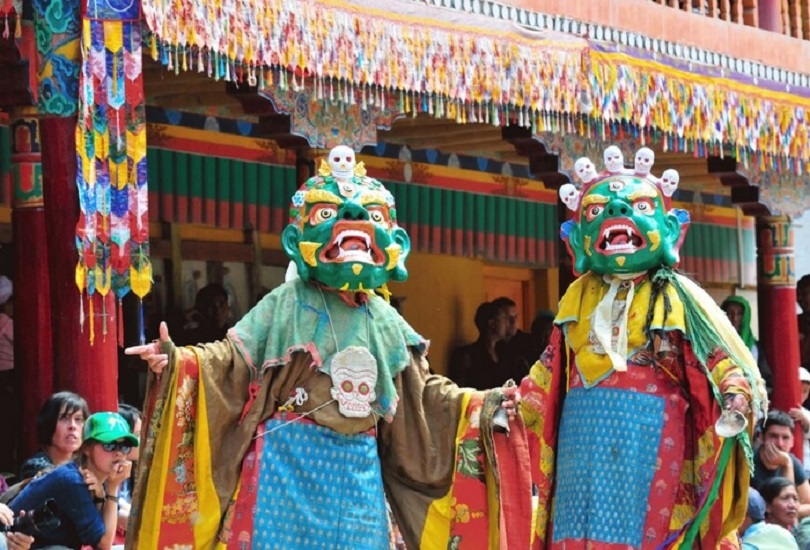 Sindhu Darshan is a festival of Guru Purnima, which is yet another colourful festival of Ladakh. One can see the harmony and unity of different ethnic groups, and it is a great way to experience the life of the people of this beautiful land.
Ladakh is a land of beautiful landscapes, ancient monasteries, shimmering lakes, snow-covered peaks, serenity, and inner peace. If you are planning to explore this extremely mesmerizing place with your partner, then do checkout these Ladakh tour packages save big and avoid any kind of hassle. You can share your Ladakh travel stories with other travelers to help them plan their own.
Read more about: