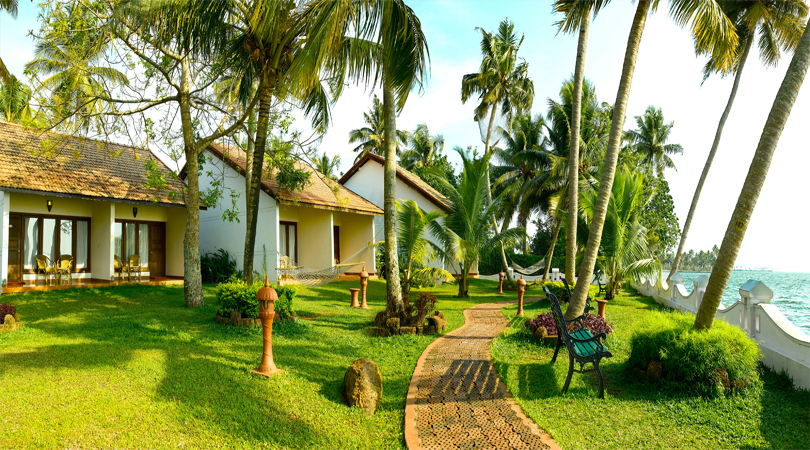 The long stretch of waterways, lakes, lagoons and lush greenery makes Kerala stunningly attractive. The Backwaters never fail to lure locals as well as tourists. These days, backwaters in Kerala have emerged as a hot honeymoon point as it offers real pleasant of scenic natural beauty at the same time more privacy. There are many luxury hotels and resorts in and around the backwaters lanes from massive Vembanad lakes to Kottayam district and Kumarakom. Most of them have their personal houseboats and offering sunset cruses and overnight trips for the fascinating Backwaters. It will be a complete delight to stay in exotic and luxury houseboat with your partner.  If you have decided to fly to Kerala backwaters for the romantic honeymoon, check out these resorts and hotels that can help you have the best time in the backwater country.
Read more about: 
1) Kumarakom Lake Resort
The Kumarakom lake resort is one of the best heritage resorts in India. Beautifully designed over 25 acres of lush land, the property has luxurious traditionally-styled rooms and villas. The lavishness of this property will enchant both of you. Ayurvedic spa, tea shop, multiple swimming pools, village walks, water sports, sunset cruises and other facilities are also offered there.
Read more about: 
2) Vivanta by Taj
Vivanta by Taj in Kumarakom is actually a 19th century colonial bungalow that consist lavish rooms, cottages and villas. It is just next to the Kumarakon Bird Sanctuary and is perfect for romance.  You can take a nature walk, cruise along the backwater, private dining, rain showers and more during your stay here.
Read more about: 
3) The Zuri Kumarakom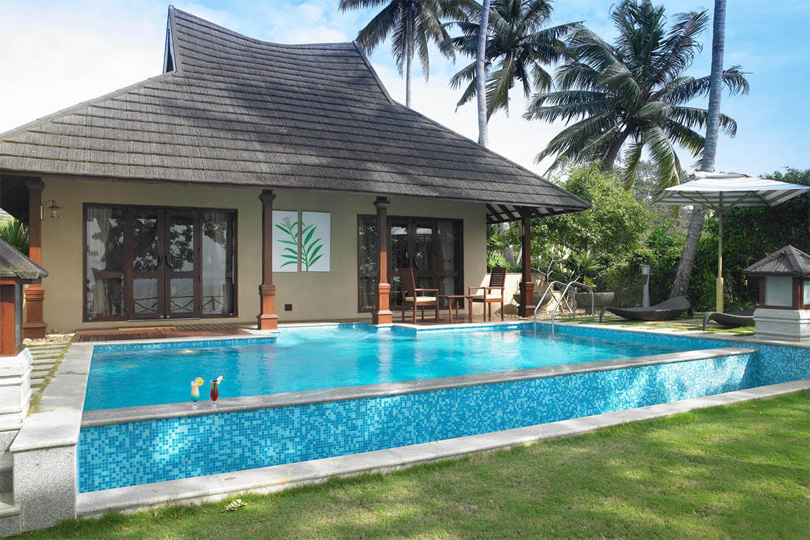 If you want a luxury stay on the Vembanad Lake, The Zuri is one of the best properties you should head towards. This is a perfect destination to pamper with your partner. The Zuri has one of the best spas in the country and is the biggest spa in south India.
Read more about: 
4) Waterscapes KTDC Backwater Resort
The Waterscapes KTDC Backwater Resort is actually a government run property. May it sound odd that somebody is recommending a government property for the honeymoon stay, but it's a surprisingly good one. It is actually inside the Kumarakom Bird Sanctuary and the favourite choice of those travelling on budget, but still like a resort accommodation close to waterways.
Read more about: 
5) Lemon Tree Vembanad Lake Resort
If you like a stay that guarantees a close-up view of the lakes from your room, this one is for you. Lemon Tree Vembanad Lake Resorts are a fresh, modern chain of hotels situated opposite side to the Kumarakom Lake Resort and offering world class and warm hospitality to its guests.
Read more about: 
6) Backwater Retreat Theme House
This is another inexpensive hotel for those traveling on budget. This is a traditional Kerala House is having just six guest rooms offering a peaceful outlook onto the river. It will take you to off the beaten track and provide a simple village-style Kerala backwater experience. You will enjoy a tranquil getaway as well as a one overnight houseboat stay if plan a package.
Read more about: 
7) Vembanad Lake Villas
This is a family-run property and has only five cottages that are set about six acres of land near Vaikom village. These cottages are worth for money and a perfect place for relaxation. Your stay at this property allows you to taste delicious and authentic Kerala cuisine that's cooked fresh by the hosts.
There couldn't be the best places for honeymoon in Kerala than the palm-fringed backwaters.
Read more about: