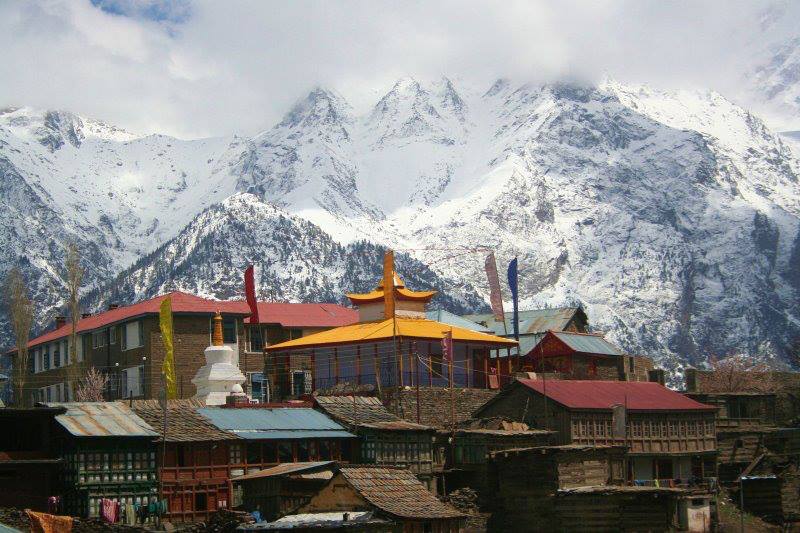 Himachal Pradesh popularly acclaimed as the 'Land of Gods' or 'Devbhoomi' which becomes more evident when you enter the tribal district of this majestic state called 'Kinnaur'. Kinnaur is located in the northeastern part of Himachal Pradesh (India). Kinnaur is situated on three mountain ranges called Zaskar, Himalayas and the Dhauladhar. These mountain ranges are as high as 2320m to 6819m from the sea level. This is a spectacular place which has Tibet to the east. This area is landscaped with lush green chir, deodar, blue pine, rhododendrons and junipers which cover the slopes up to 11,500 ft. It has snow covered mountain tops and the cold dessert.  Here are ready to get astounded over the spectacular view of mountains, apple orchards and vineyards.


The exhilarating road trip to Kinnaur is extremely adventurous, not for the weak hearted people. Ahead from the place called Rampur get ready to see the breathtaking view of an extreme sample of civil engineering, where the road has been cut out of the rock. You'll get to you natural tunnels and half tonnes of the rocks hanging over the road. This is national highway-22 and also known as 'Indo-Tibet Road' which starts from Ambala and connects to the border of China through Kinnaur and ends at Khab. Kinnaur is almost 630 km from Delhi and 383 km from Chandigarh, it takes about 7 hrs to reach this place by road from Chandigarh. Best time to visit Kinnaur is from April to October.  This is arid region and has climatic conditions somewhat like Tibet. Due to high altitude this place has a moderate climate, but winters are pretty long here generally from October till April.
Away from the city's hustle – bustle you find seclusion and the divine in Kinnaur. The valleys amidst these mountain ranges are uniquely beautiful and are enclosing rivers like Baspa, Sutlej, Spiti and their tributaries. The Nako Lake makes you speechless and you get possessed by the serenity and the purity of nature. Kinnaur has a variety of Himalayan animals kept securely in three wildlife sanctuaries. Kinnaur has some very rare and exquisite flora and fauna in India, due to its geographical conditions. Not just the scenic beauty at an exhibit, Kinnaur has beautiful people with an honest heart, who are skillful with their handlooms and handicrafts.
For the first day you can visit Reckong Peo the district headquarter and stay there for a night and head up to visit Kalpa merely 15 min drive from Reckong Peo. On the way you can see wide spread of apple orchards; you can even buy various dry fruits found here like almonds, walnuts, and especially their famous chilgoza. Seasonal fairs are the best places to buy such items. In Kalpa and Reckon Pro you can interact with the local people, buy souvenirs like kinnauri shawls, handicrafts, gloves, caps. From Kalpa you can see Kinner Kailash Mountain, from far across the mountains you can see the 'Shivalinga' which shines when sun rays fall on it. No wonder why Kinnaur is the land of gods, with the divine so close to earth. You get to see the beautiful architecture in the various temples which has a slight touch of Tibetan architecture. From history's perspective, a visit to Chini Temple in Kalpa and Kamru Fort would  be very refreshing. They have an exquisite touch of ancient wood carvings in their temples and some houses which is worth an admiration.
Kinnaur has a full potential of adventure tourism, the most popular one is the trekking. Ski slopes are widely available in Kalpa and there are professional foreign mountaineers who like visiting Kinnaur for rock climbing. The district has a scope for the adventure tourism which still needs to be tamed by the government and HimachalPradesh tour and travel facilities.
Nevertheless, many tourists go on trekking in Kinnaur, there is no other better way to experience this majestic 'land of gods'. Trekking through the forests you can discover beautiful passes, valleys connecting each other, grazing grounds by harmless dairy animals, green pastures, and exquisite flora and fauna. These passes are legends and even today they are mysterious, challenging and revealing to the world. Most famous trekking routes are 'Parikrama' of 'Shivlinga" and the Kinner Kailash Trek. In the latter, trekking facilitators can start guiding their tourists from Delhi and they drive till Reckong Peo. After an overnight stay there they take them to Kalpa to visit and from there to Shanghai. From Thangi a 12 km trek starts at an altitude of 3289 m to Lambar, after an overnight camp on Lambar trek restarts to Charang for another 12 km. They take a halt at overnight camp here and then next day trek, 14 km till Chitkul, the last village of Indo-Tibet border. You may continue your trek till Rackham and then to Sangla valley on your way back. This is the route is along the Baspa river. With this extreme experience, you will be more than overwhelmed.