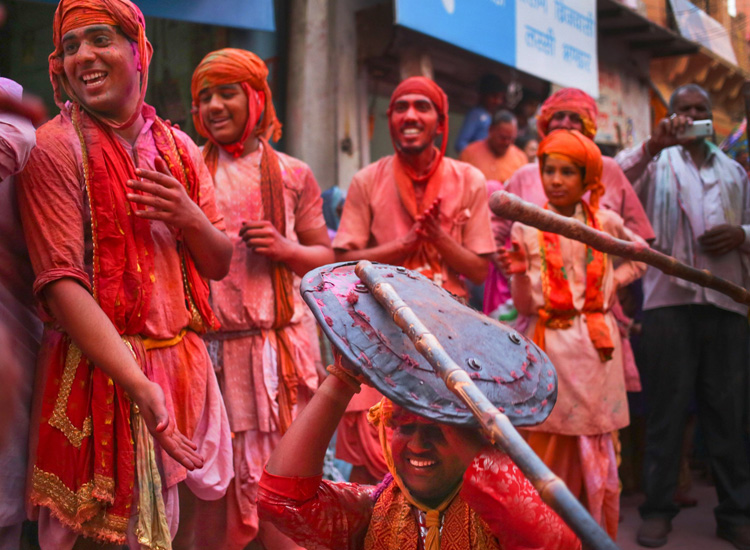 Who doesn't know about Holi and the madness it brings. This festival of colour is celebrated with a huge fervour and jollity not only in India but all around the world. The tale of Holi draws its muse from the Indian legends and the lighthearted flirtations of Radha and Krishna. But this experience of celebrating life with colours and the coming of spring has all the different connotations in India. This festival of colours brings people closer to each other. Holi is celebrated everywhere in India but there are some special places with totally crazy celebrations.
Holi Celebration in Mathura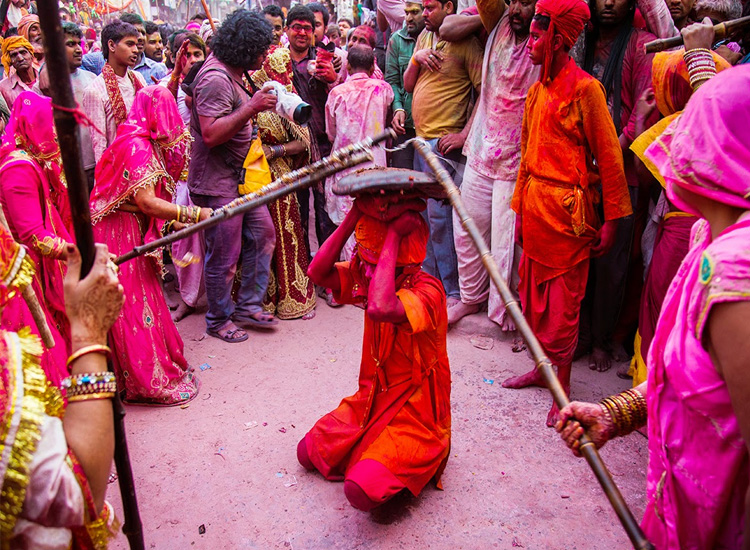 4 hours from Delhi, Mathura is the birth place of Lord Krishna and holds a much celebrated show in a week before Holi.  Mathura has an absolute fun-chaos during the Holi month where age old traditions are followed with the utmost admiration. Lathmar Holi is enjoyed in the villages of Nandgaon and Barsana. Men from Nandgaon go to Barsana to tease the women there. The women strike back by hitting them with the sticks, hence the name is Lathmar Holi. Head to Mathura to see the colorful Holi march that starts from Vishram Ghat and finishes near Holi Gate. This place becomes a hub for over excited travelers during this festival season.
Holi Celebration in 

Vrindavan
Vrindavan celebrates Holi in a much wider way. This festival is observed here for over a week's period of time. Vrindavan is a place where Radha and Krishna met for the first time. This place brings a sight of India in all its colorful liveliness. Devotees from all over the world come here and enjoy the parades and performances of Raas Leela during the event. On March 2nd, the celebrations of Holi begin at a Banke Bihari temple in Vrindavan.
Vrindavan is among the best places to visit for this colourful festivity.
Holi Celebration in 

Shantiniketan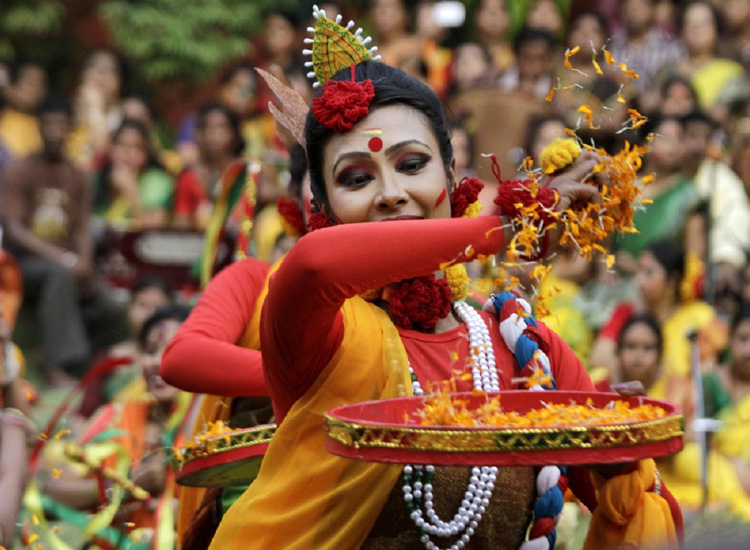 Holi as Basanta Utsav at Shantiniketan was started by famous poet and Nobel Laureate Rabindranath Tagore. A huge number of tourists turn up every year at Shantiniketan to witness and participate in a much decent way of celebration where young boys and girls welcome basant by not only throwing colours but by singing songs and dancing on the tunes. Vasanta Utsav has become a respected part of Bengali history and culture, and it attracts many foreign tourists during this time of the year. Visit here for an elegant way of celebrating Holi.
Holi Celebration in Udaipur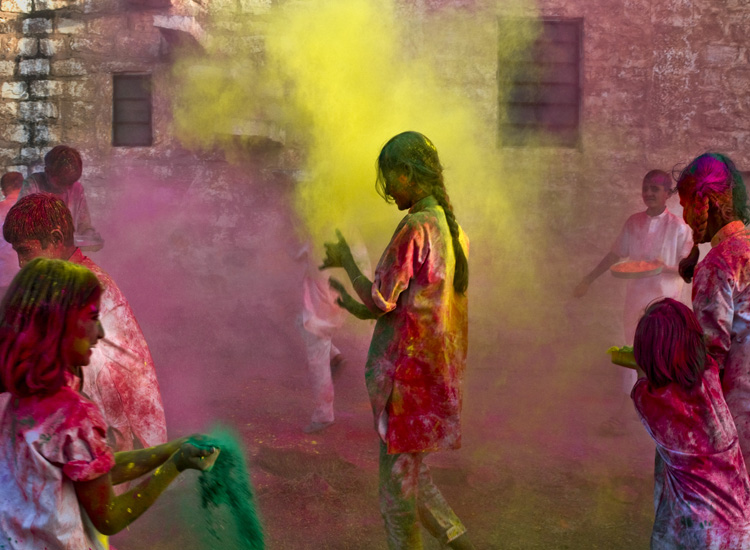 Holi festivities begin with the burning of Holika at the central square outside the Jagdish Temple in Udaipur. There is music, dancing and festivities following by 'Holika Dahan' and bursting of firecrackers. This festival is celebrated all out on the streets and around the lakes close to this stunning city. People from around the world come here and celebrate Holi with a great enthusiasm.
Holi Celebration in Punjab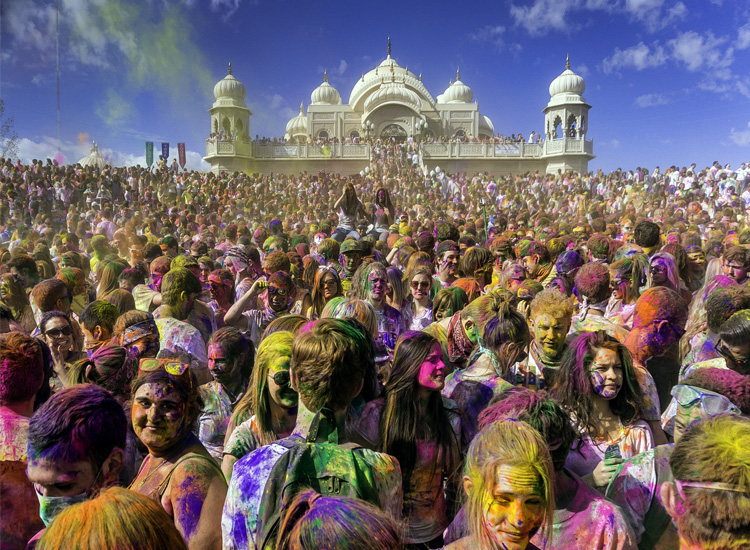 Have an Experience of Holi in the Sikh manner at Anandpur Sahib in Punjab! Hola Mohalla is a yearly fair that dates all the way back to 1701. It was first initiated by Sikh Guru Gobind Singh to celebrate Holi. However, instead of throwing colors, wait for the display of physical agility. There's wrestling, martial arts, mock sword fights, acrobatic military exercises, and turban tying.  For all those who want to have an escape from the colourful chaos of Holi, visit here for a different feel all-together.
Read more about: 
Barsana: Holi with Sticks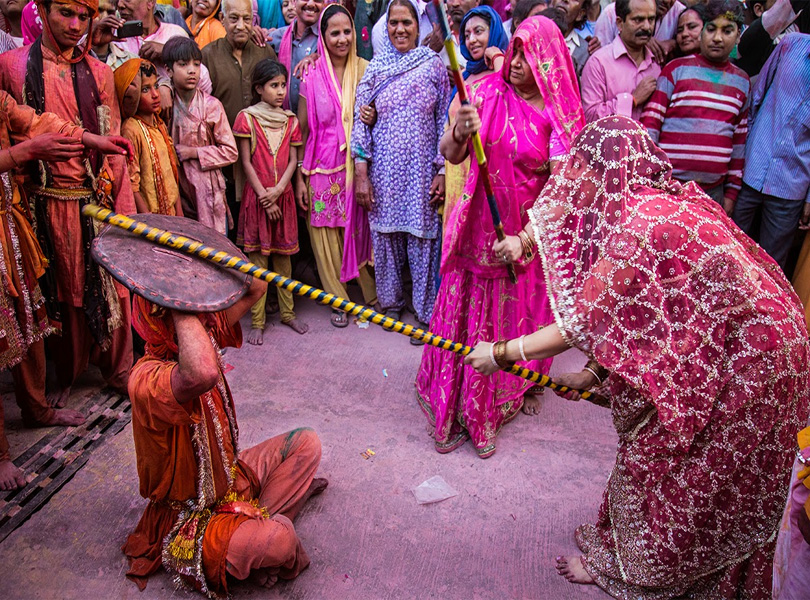 In Barsana, a unique tradition is followed in the form of Lathmar Holi, which literally means, "festival of sticks and colors". On this day, men who visit Barsana are greeted with sticks. Few unlucky ones are captured and dressed in female clothing, before being made to dance in public.
Read more about: 
Delhi: Musical Holi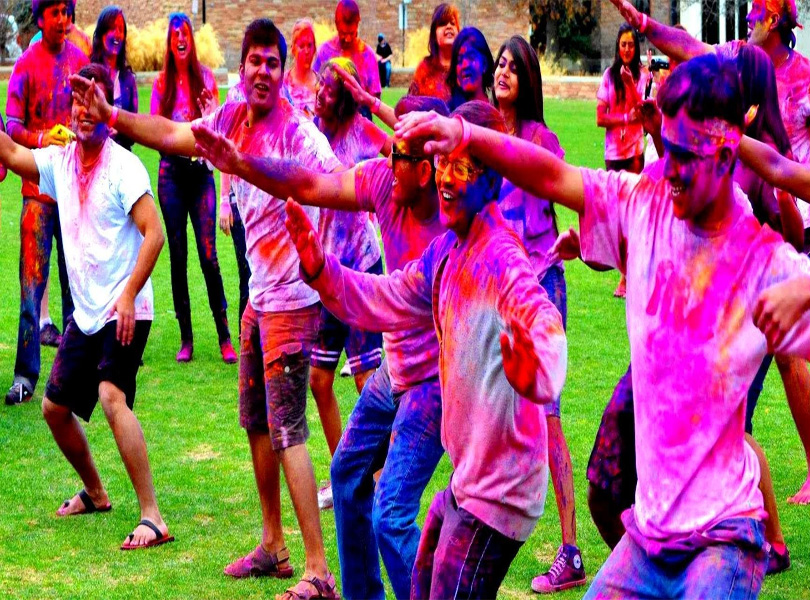 Celebrate Holi with music in Delhi. Attend the Holi Moo Festival, and witness incredible performances from more than 40 Indian and international performances spread over four stages. Rock on, and revel in the colors of Holi with bhang lassi, street food, sprinklers and others.
Read more about: 
Jaipur: Holi and Elephants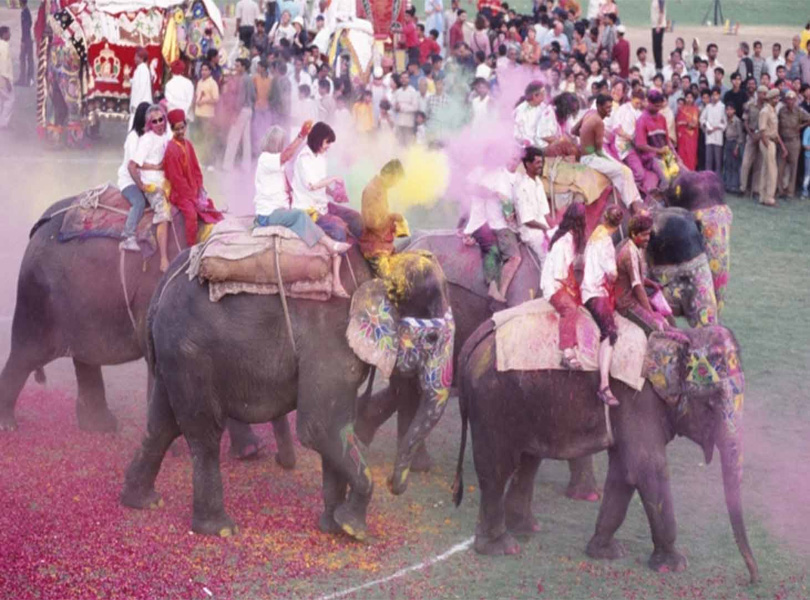 The excitement of Eleholi awaits you in Jaipur, offering you the chance of enjoying this festival of colors with elephants. Celebrate with colors in the presence of these majestic beasts, participate in a host of activities and enjoy Holi the traditional way.
Read more about: 
Hampi: Holi in South India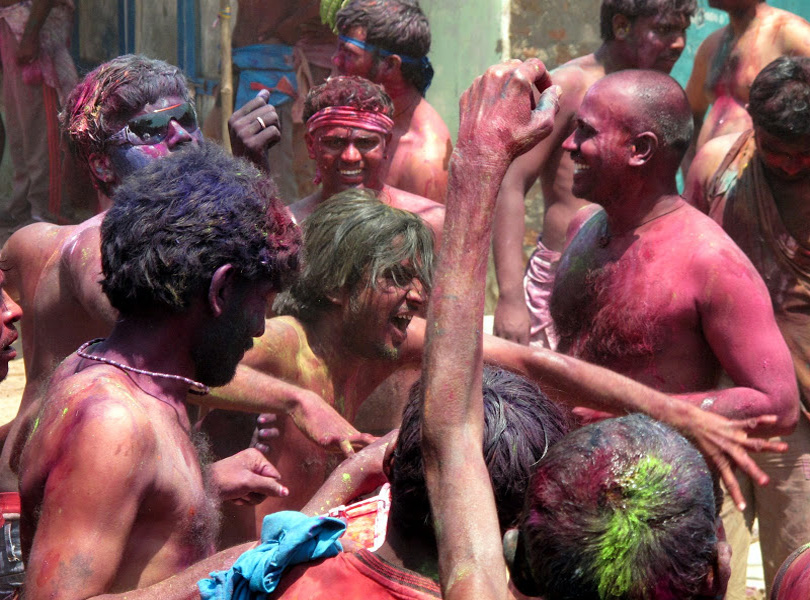 Celebrate Holi in Hampi by dancing, drumming and enjoying yourself, all amidst the ruins of the Vijayanagar Empire. Witness the several temple rites and other religious activities conducted during this occasion.
Read more about: