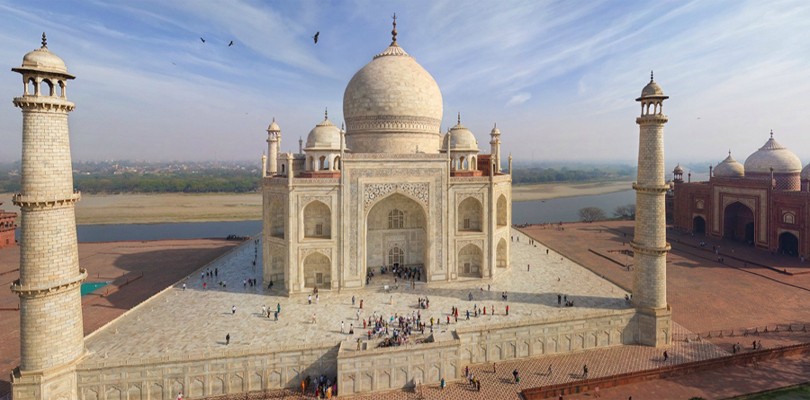 Does the term "Golden Triangle Tour with Varanasi" invokes thought nothing beyond the Red Fort, Taj Mahal, City Palace or the Ganges? Undoubtedly, these are some of the most popular tourist attractions in India and witnessing the epitomes of rich history, culture and spirituality are experiences worth cherishing forever.  But there is much more to your Golden Triangle Tour that would make your journey most unique and memorable. After all, for a true travel aficionado, the beauty of a city does not merely lies in its history, heritage and architectural grandeur. One of the best ways to know a city is to walk the off-beaten path.
We promise to make your Golden Triangle Tour with Varanasi most invigorating and cherished. Here are some offbeat things to do on your tour to Golden Triangle with Varanasi.
Explore the Captivating Chandni Chowk, Delhi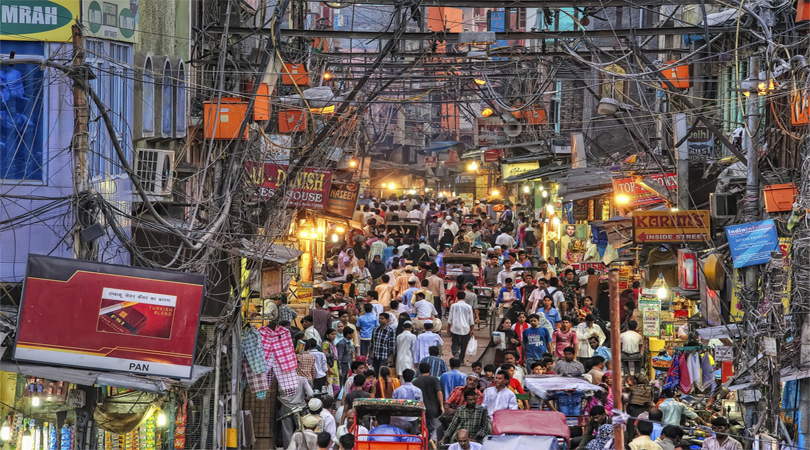 Image source: http://image3.mouthshut.com/images/Restaurant/Photo/-26975_10253.jpg
Beyond the brilliance and the allure of Delhi's architectural splendour and historical places lies the old world charm of Chandni Chowk, a must-visit on your Delhi tour. Tucked amidst the hustle and bustle of Old Delhi, Chandni Chowk is all about the narrow streets, lip-smacking food, shopping extravaganza and a myriad sounds and sights that you will fall in love with. It is truly the city's soul, brimming with fabric, jewellery, electronics stores and a wonderful place to taste Delhi's famous street food. To Take back home some organic spices and herbs from Khari Baoli Market, Asia's largest spice market. Walk down the narrow Paranthewali Gali to savour one of the largest varieties of Paranthas. Shop till you drop and then refresh over delectable Mughlai cuisine at Karim's Hotel.
Spend a Beautiful Evening amidst the Charm of Qawwalis at Nizamuddin Dargah, Delhi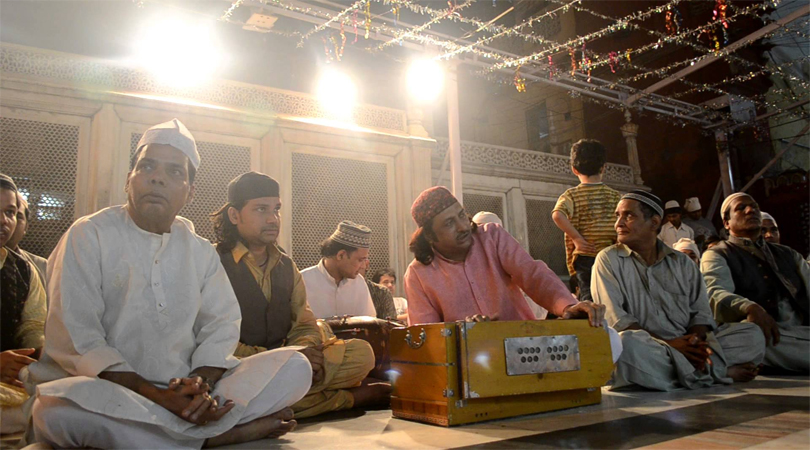 Image source: https://i.ytimg.com/vi/8jinbR-hb1A/maxresdefault.jpg
When your eyes get tired witnessing the top tourist attractions in Delhi and your mind seeks a way out from the chaos, escape on an evening to Hazrat Nizamuddin Dargah in New Delhi, near Humayun's Tomb. The soulful appeal of live Qawwalis and the charm of Sufism will definitely serenade you into a trance.
Flavoursome Food Tour, Agra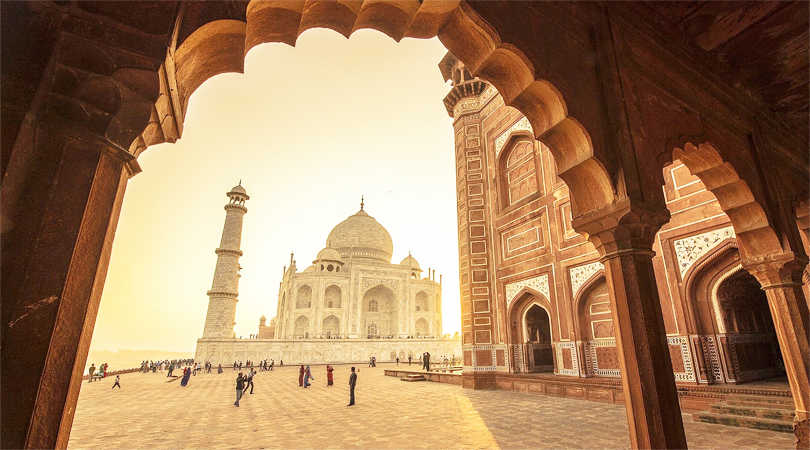 Next to Taj Mahal and Red Fort, if anything appeals travels in Agra, is its food. In fact, the city is a gastronomic delight for tourists as it offers a wonderful variety of food for discerning tastes. The Agra food tour takes you on a memorable journey, from years-old eateries like Rambabu Parantha Bhandar and Deviram Sweets to delectable cuisines at 5-star hotels like ITC Mughal. Do not miss to taste a wide variety of chaats, including panipuri, aloo tikki and dahi papdi chat. Another popular food item in Agra is Petha, a type of sweet made of Pumpkin.
Yoga by the Taj Mahal, Agra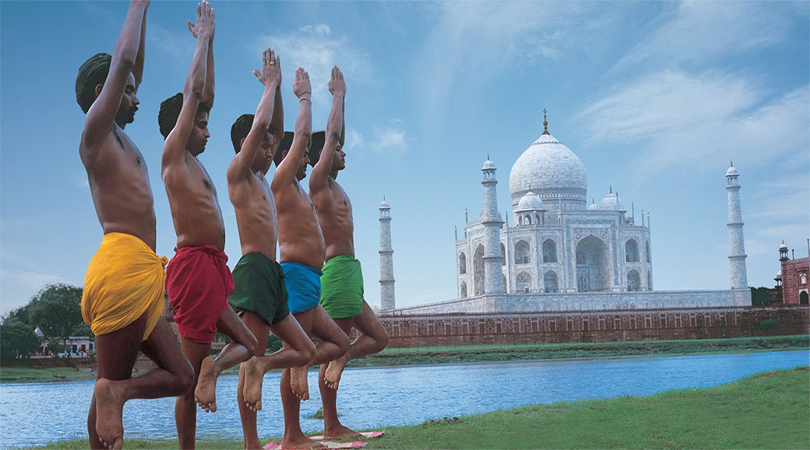 Image source: http://www.triptoindia.com/gallery/Itinerary/The%20Treasures%20within%20Golden%20Triangle%20and%20More/taj-mahal-and-yoga.jpg
Practicing Yoga while having breathtaking views of the Taj Mahal! Sounds amazing, right? A 2-hour Agra tour gives you a splendid opportunity to experience two of India's biggest gemstones – the Taj Mahal and Yoga. It will cover basic aspects of Yoga like Dhyanas, Pranayam and Asanas, overlooking the mesmerizing white-marble mausoleum, the Taj Mahal, at just few hundred metres away. It is one of the most unique things to do in Golden Triangle Tour.
Romance the Sky on Your Hot Air Balloon Ride, Jaipur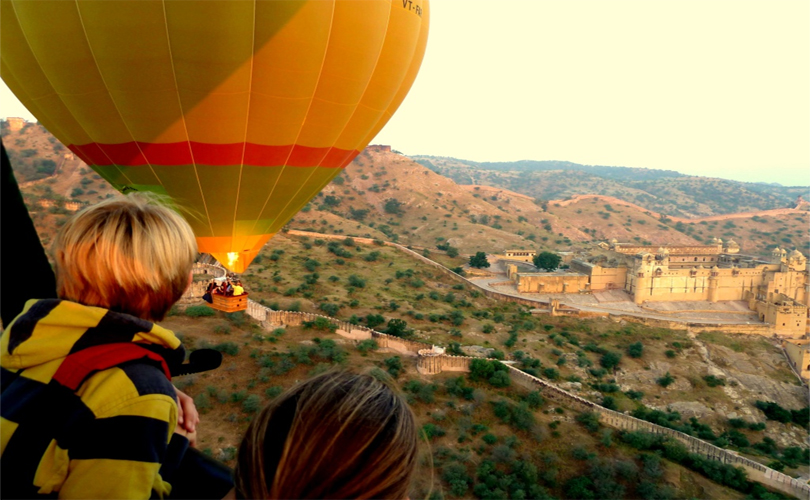 Image source: http://planetrovers.com/wp-content/uploads/2015/07/Jaipur-2-min.jpg
Jaipur is charmingly a step back in the bygone era. Be mesmerised by the beauty of Rajasthan's Pink City as you glide slowly over the Aravallis and the magnificent forts and palaces. Capture a picturesque view of rustic villages as friendly local people smile gazing up at you. Balloon safari is one of the most unusual things to do in Jaipur that you will cherish forever. Amber Fort, Jal Mahal, Delhi-Jaipur Road and Shiv Vilas are some places from where hot air balloon rides are arranged.
Visit the Ancient Stepwell of India – A Beauty to Behold Forever, Jaipur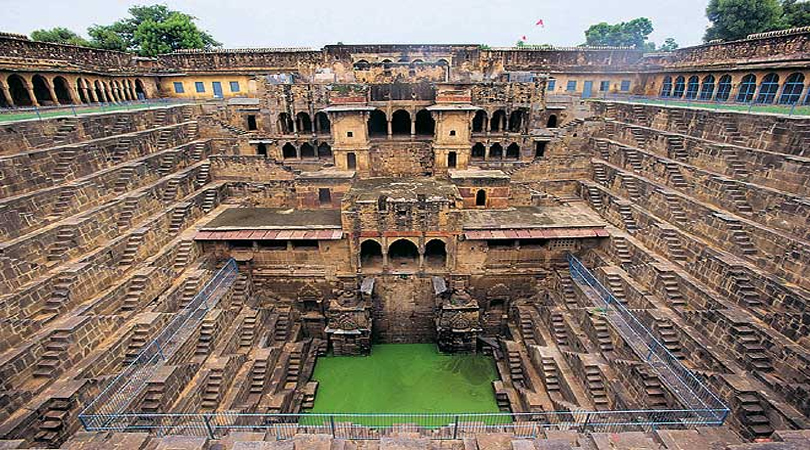 The ancient and beguiling stone step well of Chand Baori in Abhaneri is one of the best-kept secrets of Jaipur. Far from the limelight of popular tourist places in Jaipur lies one of the largest and most spectacular step wells in India – a 13-storied water storage well that has a massive temple on one side and 3,500 Escher-esqe terraced steps on the other three sides, marching down up to a depth of 100 feet. A lesser-known tourist spot, visiting this architectural masterpiece is a must on your Jaipur tour.
Elephant Bathing in Jaipur – A Complete No Miss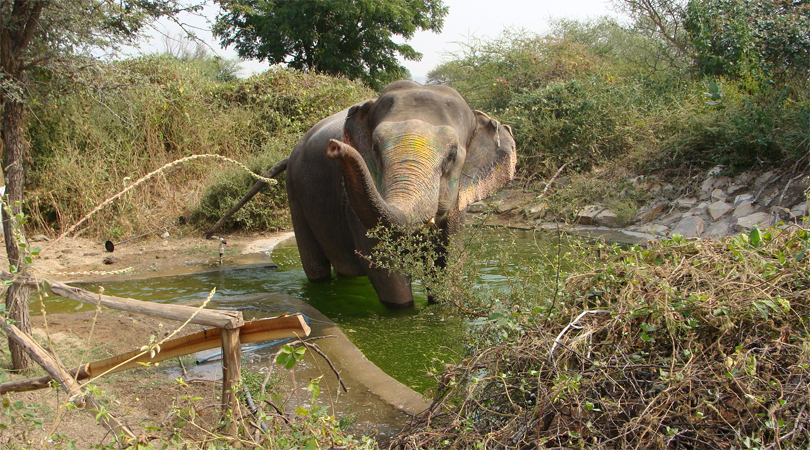 Image source: https://budgetindianvacations.files.wordpress.com/2015/08/elephant-bathing-at-elefantastic-jaipur.jpg
Imagine the delightful experience of spending time with lovable tuskers amidst a warm and friendly ambience, bathing them and even enjoying a bareback ride on these creatures! Isn't it so exciting? If you are in Jaipur and haven't been up, close and personal with the elephants, you haven't experienced it all. There are elephant farms in Jaipur where tourists can touch, play and talk with these loveable creatures, and even bathe them at the lake. You can also paint your favourite elephant the way you like. The experience is most unusual and enchanting.
Walk down the Ancient Streets and Alleys of Varanasi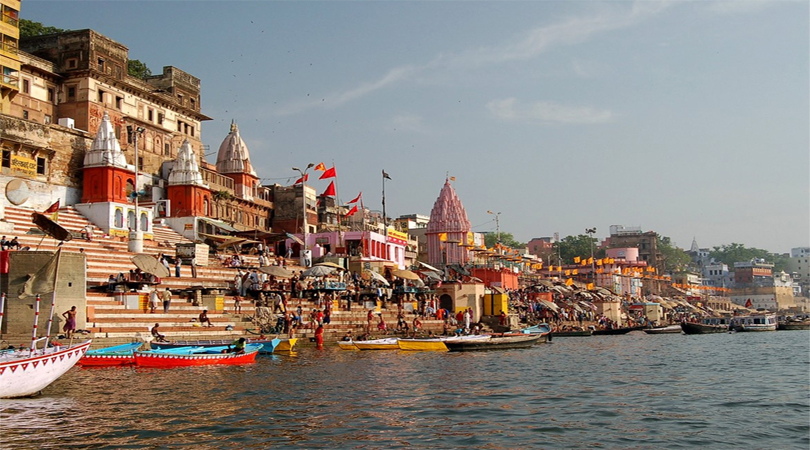 Next on your Golden Triangle Tour is Varanasi, the oldest city in India, brimming with divinity, heritage and traditions. However, your Varanasi tour does not necessarily have to be all about the Ganges River, the Ghats and Temples. As you walk down the narrow streets of the ancient city, you will discover its true beauty and charm. One of the most unique things to do in Varanasi is to be there and wander around. Watch the people busy with their day-to-day lives, ancient buildings cramming over each other, street stalls and all sorts of businesses, numerous shrines and temples; the entire city comes alive as you walk down the streets of Varanasi.
Fun Shopping Experience, Varanasi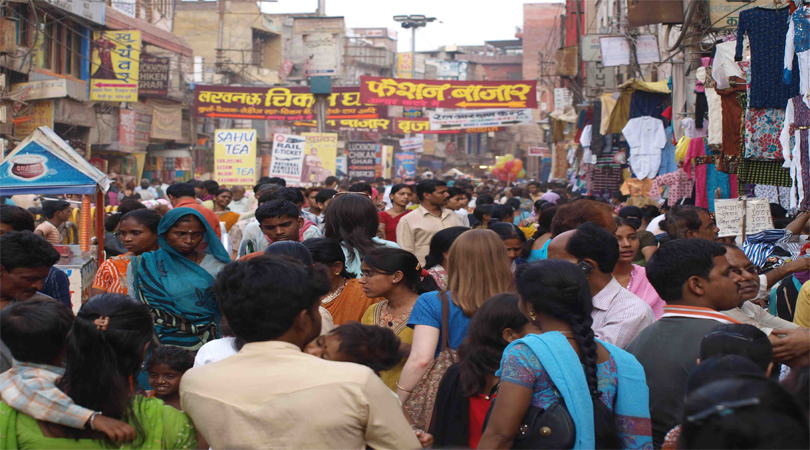 Image source: http://www.formertourist.com/wp-content/uploads/2016/03/shopping-in-banaras.jpg
Shopping in Varanasi is not something that you will find very common among tourists. People mostly visit here in pursuit of spirituality and enlightenment. However, for offbeat travellers, shopping is a must to unveil the city's cultural heritage and pride – the famous Benarasi Silk Sarees. Vishwanath Gali and Chowk are two famous markets where you can buy a wide variety of Benarasi silk sarees, silk brocades and jewellery. Gadolia Market is also a shoppers' paradise, famous for silk brocades, woodwork items, bangles, jewellery, etc.
Excursions in Varanasi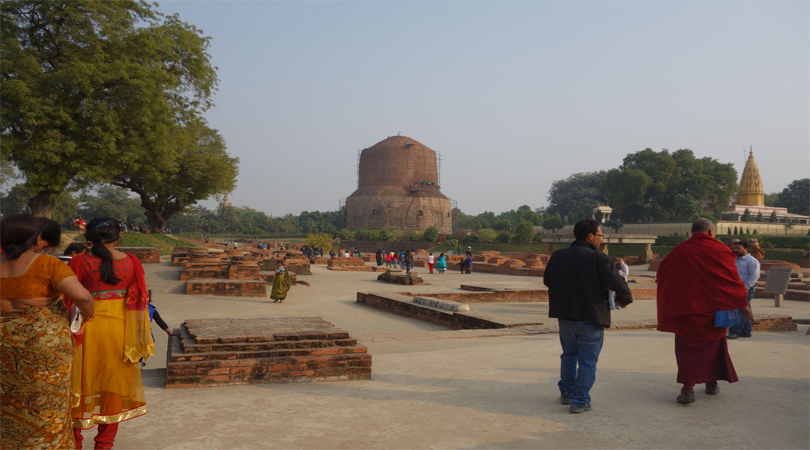 Image source:
For a memorable travel experience, visit famous places around Varanasi like Sarnath, Jaunpur, Chunar, Kushinagar, Kaushambi and Vindhyachal. These are located at close proximity to the city and can be visited on a day's tour.  
Break the stereotype! Our Golden Triangle Tour with Varanasi will unveil some of the most unique things to do or unusual experiences that you will cherish for a lifetime.