Can Krakow impress residents of Paris and other beautiful French cities? Sure it can! As officially licensed guides here in Krakow, we have seen a dramatic increase in the number of visitors who are interested in French-language Krakow sightseeing tours. We've had the pleasure of welcoming lots of French tourists and we know how much they've enjoyed themselves. It seems that world capital of fashion loves Krakow's style!
Enchanting Krakow
Sometimes local residents of any beautiful city or area can get too used to their surroundings and not realise just how attractive it is for visitors. Anyone who lives in Krakow just needs to spend a few minutes with tourists to be reminded about just how amazing this city is. Visitors from France and elsewhere love to explore the rich and colorful interiors of Krakow's churches. The interior of St. Mary's Church in Krakow's main square is packed with works of art from every era in the artistic history of Europe and its wild bursts of color will make an impression on even the most experienced traveller. St. Mary's is just the beginning of any trip through Krakow's most famous attractions. A stroll through the old Jewish Quarter or a trip to the nearly salt mines will make you sure that you made the right choice for your holiday. If you'd like to get away to the countryside around Krakow, an incredible landscape of unique rock formations and craggy limestone hills awaits.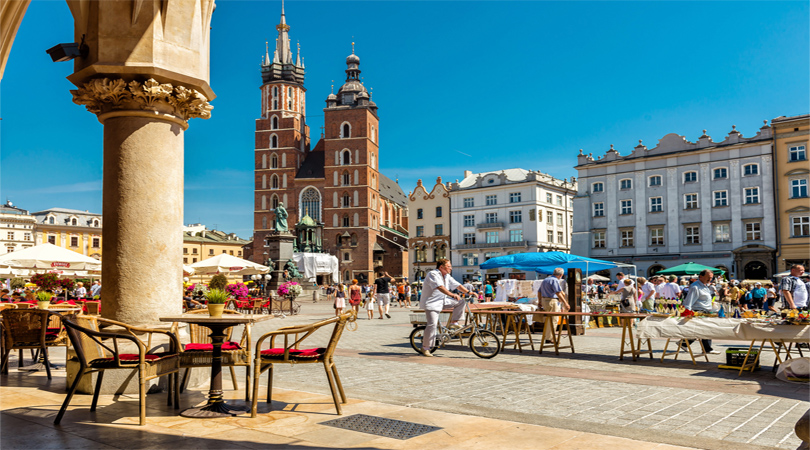 Krakow is a city that's full of life – nightlife, social life and artistic life. In the summer, the streets of Krakow are loud and lively well into the night. Street artists are everywhere in the Old Town and a relaxed walk around town is the just the thing to set the right mood to enjoy the evening. It's hard not to surrender to Krakow's charm and any number of our friends from France will attest to that.
Krakow Tours – A great holiday for every budget
You won't be surprised to learn that a stay in Krakow doesn't cost as much as a visit to Paris. Krakow has a wide range of high class hotels that are priced very reasonably by Western European standards. These bargains extend to meal time as well, and a big night out doesn't come with the big bill you'd get in Paris.
While you're enjoying that meal or that drink, you think about the long cultural and artistic ties between Poland and France and the famous names associated with them. Krzysztof Kieslowki, Roman Polanski, Frederic Chopin and others have defined the historical relationship between these two countries and there are many more to discuss with your friends – or maybe locals? – as you enjoy a drink at a sidewalk cafe!
Krakow guide services in French and general information about Krakow can be found at Krakow guided tours. Start planning your own visit today!