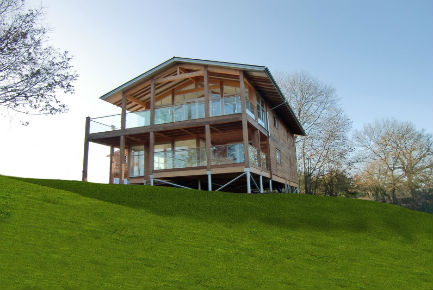 Sheltering 51 natural reserves accompanied by a vast range of wildlife sites, English heritage points and various other national trust properties that continue to woo travellers from different corners of the world, Suffolk is certainly a place get attracted to. A tranquil presence amidst the woods of Woodland Trust will let you escape the monotony you encounter in your everyday life. Or you can simply extend your evening stroll to the nearest museum for discovering fascinating artefacts and much more.
A treat for your senses, Suffolk will let you enjoy to your heart's content; but you certainly have to consider other primary aspects for a great stay in this beautiful European destination. If you are all set for a wonderful Suffolk Holiday, why not make it memorable? Enough of hotel accommodation!! This time, you can skip the grandeur of huge edifices and break free into the rustic charm of countryside cottages that are no less luxurious than hotels.
Acres of lush green lands studded with beautiful resorts welcoming you to plush accommodation- that is exactly how holiday cottages in Suffolk greet guests. Do you want to be a part of this beautiful experience? Then head nowhere other than these plush accommodations because these friendly countryside cottages will provide you unparallel access to nature's unspoilt charm. Eat, sleep, relax or do whatever you want, the beautiful accommodations in Suffolk will promise to not leave you disappointed.
A delightful stay at these cottages also promises an array of facilities you will love to explore especially when you are holidaying. Secluded from the hustle and bustle of city life, the humble yet beautiful accommodations will give you a perfect relaxing feel for enjoying the natural wealth and heritage points of East Anglia. Since these holiday cottages are more than just ordinary accommodations they accompany facilities as mentioned below:
Indulging into green tourism: in an attempt to attract tourists' attention the architects have developed these rustic accommodations accordingly. They have introduced sustainable and eco-friendly cottages equipped with energy efficient features that let you enjoy bright lighting and other electronic operations like making farm bred coffee or tea. Installation of solar photovoltaic panels and solar trackers assure optimum usage of solar energy as a sustainable resource. Make an impact on others by staying green.
A warm stay: Wake up to the sweet note of a bird while cuddling under the quilt. These cottages guarantee you a cosy stay to sit back, relax and cherish blissful accommodation amidst acres of green. This winter pamper your soul as the Suffolk cottages come equipped with hot tubs letting you enjoy a warm splash. Even the indoor swimming pools are installed with heaters so that you can enjoy a pleasant swim even if the weather is cold.
All-natural beauty treatments: the Suffolk accommodations feature a surrounding that has it all to keep you happy from within. There are beauty salons for guests who want to pamper their mind and body with therapeutic sessions. Feel rejuvenated after an aromatherapy based massage or facial and discover a healthier you. The intensely relaxing and invigorating body massaging techniques will give you a million dollar worth pleasure. Are you interested?
To make your stay even more unforgettable, the accommodation grounds accompany tennis courts where you can sweat out your extra calories for a comforting break. Furthermore you can alternatively put your legs to work by walking down public footpaths that directly link you to country cottages. What's more? If you have welcomed a child or have adopted a pet, the cottages will provide splendid accommodation for the little one as well as your dear pet. These humble accommodations are perfect for a family stay. So, entertain your loved ones in Suffolk by booking a cottage that will aptly serve your needs.
Author Bio: Kristina Louis has this habit of exploring the world and turning her experiences into penned words. Through her contents she eagerly wants to share important aspects of travelling and other crucial information about places near and far. Her main aim is to encourage travel enthusiasts.